'Beyond the Clinic' – the national conference on the prevention and treatment of child and adolescent obesity far exceeded Colleen and Wendy's expectations. The speakers were outstanding, the information very thought-provoking and the opportunity for networking promoted some inspiring conversations. During the conference, Wendy received numerous kudos for the Craving Change children's book that many clinicians working in pediatric clinics have been using in their practice (see photo of display). After the conference, a dietitian shared her thoughts on the book and resources in the email message below:
I do one-on-one nutrition and lifestyle counselling with children aged 2-18 that have a BMI >85th%ile. I've been in this role for 4.5 years now and I realized early on that most people have a lot of knowledge of "healthy eating" but know nothing about the other reasons why we eat. I've always used the Craving Change terminology of 'stomach, heart and mouth hunger' but this book has done such a great job of framing it in a child and family friendly way.
I have suggested the book to many of my families and they get excited just hearing that such a book exists. I've found that my parents have really adopted the language of the different hungers with their kids which has helped remove shame and judgement around food choices and setting them up to a much healthier relationship with food. The notes for parents in the book have been so helpful with this transition.
This is exactly the type of feedback that confirms that there may be strategies that we can use to help children develop a positive relationship with food.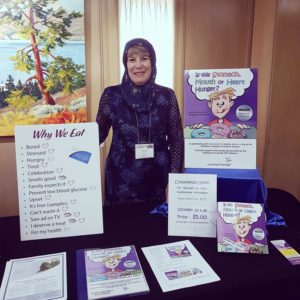 ™